The Tattooist of Auschwitz
- Heather Morris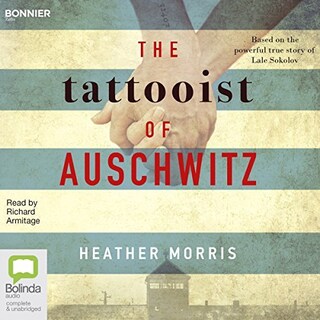 Beskrivning
Heart-breaking - a tale of love and survival amidst the horrors of Auschwitz
Human - the real story behind one of the most potent symbols of the Holocaust - the blue numbers tattooed on prisoners' arms
Inspirational - the very best of humanity in the very worst of circumstances
Unforgettable - a story untold for over seventy years is finally shared
Life-affirming - one man's determination to survive and live a full life with the woman he loved
Fully verified - Lale Sokolov's background and story has been fact-checked against all available documentary evidence

The Story

The Tattooist of Auschwitz is based on the true story of Lale and Gita Sokolov, two Slovakian Jews who survived Auschwitz. When Lale, given the job of tattooing the prisoners, saw Gita waiting in line, it was love at first sight. In that moment he determined to keep them both alive. This is a story of hope and of courage.
© Bonnier Publishing Fiction (Ljudbok)
© Bonnier Publishing Fiction (E-bok)