A Hint of Magic 3: Boy Trouble
- Sandra Schwartz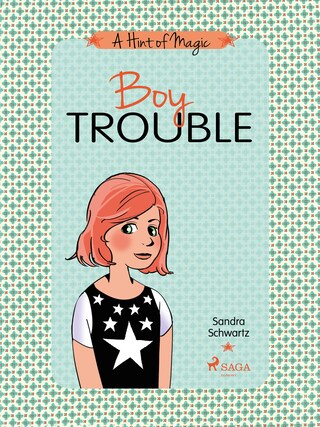 Beskrivning
"Want to see if the stars think you're a good match?"

"Yes," Runa shouts and I clap our hands.

"The stars?" Frida looks at us as if we are speaking in tongues.

I laugh. "Yep, we're matching horoscopes."

Runa likes Mehdi, and Frida likes Noah.

Vigga also thinks Noah is cute.

But Frida said it first.

When Vigga gets a kiss from Noah, everything goes wrong.

"Sandra Schwartz manages, in few pages, to get the reader involved in the story, and I am sure there are a lot who can recognize the feelings surrounding the first, innocent, love." - www.bogormenogmig.wordpress.dk

A series about the everyday struggles of three girls and their friendship, with just a hint of magic...

Sandra Schwartz was born in 1979, and currently lives in Valby, Denmark with her husband and two kids. Growing up her mother would often take her to the most magical place in the world – the library. And her grandmother would make up dramatic stories about the Kitchen knife that went down the drain and had amazing adventures all over the world.

She writes in several different genres, but her biggest passion is writing books for children and young adults.