A Most Grave Ritual - A New Sherlock Holmes Mystery, Episode 20 (Unabridged)
- Sir Arthur Conan Doyle, Craig Stephen Copland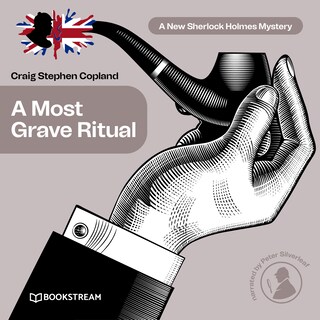 Beskrivning
A MOST GRAVE RITUAL. In 1649, King Charles I escaped from the palace in which he was being held prisoner and made a desperate run for Southampton, hoping to reach safety on the Continent. He never made it and was returned to face trial and execution. This much we know. But what did he do along the way south? Did he stop at a castle of one of his loyal royalists? Did he leave behind a vast fortune that he had taken from the Royal Treasury? No one knows for sure.
Or do they? The Musgrave family now owns the old castle and the great manor house beside it. The patriarch of the family dies in the graveyard and the locals believe that the headless ghost of the king did him in. The police accuse his son of murdering him so he could claim the fortune. Sherlock Holmes is hired to exonerate the lad. You would never guess what happens next.
The original Sherlock Holmes story that inspired this one, The Musgrave Ritual, is appended to the paperback edition of this book.
© 2022 Bookstream Audiobooks (Ljudbok)
© 2022 Bookstream GmbH (Ljudbok)