Adventures of Huckleberry Finn
- Mark Twain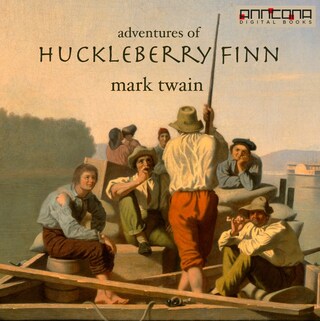 Beskrivning
Adventures of Huckleberry Finn is a novel by Mark Twain, first published in England in December 1884 and in the United States in February 1885. Commonly named among the Great American Novels, the work is among the first in major American literature to be written throughout in vernacular English, characterized by local color regionalism. It is told in the first person by Huckleberry "Huck" Finn, a friend of Tom Sawyer and narrator of two other Twain novels (Tom Sawyer Abroad and Tom Sawyer, Detective). It is a direct sequel to The Adventures of Tom Sawyer.

The book is noted for its colorful description of people and places along the Mississippi River. Satirizing a Southern antebellum society that had ceased to exist about twenty years before the work was published, Adventures of Huckleberry Finn is an often scathing look at entrenched attitudes, particularly racism.

Perennially popular with readers, Adventures of Huckleberry Finn has also been the continued object of study by literary critics since its publication. It was criticized upon release because of its coarse language and became even more controversial in the 20th century because of its perceived use of racial stereotypes and because of its frequent use of the racial slur "nigger", despite strong arguments that the protagonist, and the tenor of the book, is anti-racist.

Samuel Langhorne Clemens (1835-1910), better known by his pen name Mark Twain, was an American author and humorist. He is most noted for his novel The Adventures of Tom Sawyer (1876) and its sequel, Adventures of Huckleberry Finn (1885), the latter often called "the Great American Novel."

Twain grew up in Hannibal, Missouri, which would later provide the setting for Huckleberry Finn and Tom Sawyer. He apprenticed with a printer. He also worked as a typesetter and contributed articles to his older brother Orion's newspaper. After toiling as a printer in various cities, he became a master riverboat pilot on the Mississippi River before heading west to join Orion. He was a failure at gold mining, so he next turned to journalism. While a reporter, he wrote a humorous story, "The Celebrated Jumping Frog of Calaveras County," which became very popular and brought nationwide attention. His travelogues were also well received. Twain had found his calling.