Alison Larkin Presents: The Man in the Brown Suit, The Mysterious Affair at Styles, The Secret Adversary, and The Murder on the Links
- Agatha Christie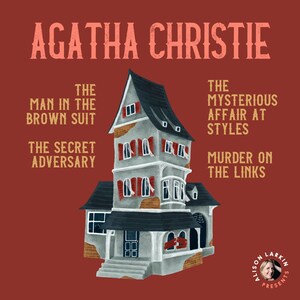 Beskrivning
Read by AudioFile Earphones award winning narrator Alison Larkin and the star of Agatha Christie's Partners in Crime t.v. series James Warwick,
The Man in the Brown Suit - Anne comes to London looking for adventure, but adventure comes looking for her—and immediately finds her when she witnesses a mysterious death.
The Mysterious Affair at Styles - When Emily Inglethorpe dies suspiciously after marrying a man 20 years her junior, her nephew, Captain Hastings, recruits his old friend Hercule Poirot to help in the investigation.
The Secret Adversary - Tommy and Tuppence are a broke young couple that embark on a daring business scheme that plunges them into more danger than they ever imagined.
The Murder on the Links - An urgent cry for help brings Belgian detective Hercule Poirot to France. But he arrives too late to save his client, whose brutally stabbed body now lies in a shallow grave on a golf course, leaving a mystery only the world's greatest detective can solve.
"Larkin is an excellent choice to narrate this delightful classic…her reading is champagne bubbly and engaging throughout…a jaunty, jolly good listen." —Publishers Weekly
"Warwick's characterization of Poirot is spot-on." —AudioFile Magazine
"Warwick and Larkin are a delightful combination." —AudioFile Magazine
"Warwick and Larkin are a delightful combination - get ready to listen and laugh" raves AudioFile Magazine about the duo's two-handeed narration of The Importance of Being Earnest.

© Author's Republic (Ljudbok)