Art of Business Strategy Bundle, 3 in 1 Bundle
- Ariadne Ghent, Jeremy Voss, Anton Berger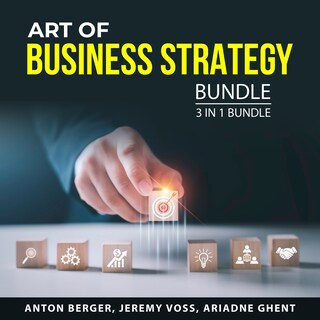 Beskrivning
Art of Business Strategy Bundle, 3 in 1 Bundle: A Mind for Sales, Business Intelligence, and Sales EQ
Everything in the world of business and entrepreneurship is getting more and more competitive these days. You need to learn and master a lot of marketing strategies and take advantage of any possibilities to help your business succeed. If you're a business owner, but hates the idea of selling or feels uncomfortable in pushing for sales, this could be a problem but this bundle has something that can help you. If you're not doing backend marketing and not maximizing existing customers, you're missing out on a lot that could certainly boost your profits. You can also consider hiring a business coach. Some may think that hiring a business coach is a luxury or an unnecessary expense for the company but if you want to elevate your business and make sure it stays for many many years to come, consider hiring a business coach as an investment that can help you realize your dreams.
This bundle will talk about all of these marketing strategies that will help your business achieve the ultimate success. You will learn effective selling tips and techniques even for the reluctant seller. It will also teach you all about backend marketing and the benefits of a business coach and how to hire one should you desire to do so.
This 3 in 1 bundle includes the following audiobooks:
1. A Mind for Sales: The Ultimate Guide on Effective Selling Tips That Can Help Even the Most Reluctant Sellers
2. Business Intelligence: The Ultimate Guide to Business Planning and Strategies by a Business Coach, Learn the Benefits of Hiring a Business Coach on How It Can Make Your Online Business a Success
3. Sales EQ: Your Essential Guide to Backend Marketing. Discover Proven Tips on How to Increase Sales and Profits on the Backend
If you want to learn more, download your copy of Art of Business Strategy 3 in 1 Bundle today!