Badge of Infamy

- Lester del Rey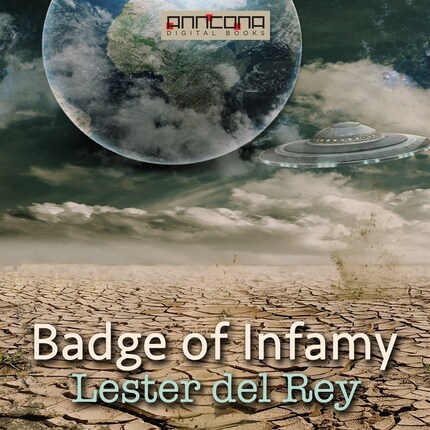 Beskrivning
Badge of Infamy is a science fiction novel by Anerican author Lester del Ray, first published in 1957.

After a world plague, the Earth is ruled by the US, which is for all practical purposes ruled by the Medical and Space Lobbies. A promising doctor is declared an outlaw because he saved a friend's life by operating in the field instead of a hospital.

He slinks off to Mars for some peace. But he discovers a Martian germ has begun infecting humans and he has to do something.

Daniel Feldman was a doctor once. He made the mistake of saving a friend's life in violation of Medical Lobby rules. Now, he's a pariah, shunned by all, forbidden to touch another patient.

But things are more loose on Mars. There, Doc Feldman is welcomed by the colonists, even as he's hunted by the authorities. But, when he discovers a Martian plague may soon wipe out humanity on two planets, Feldman finds himself a pivotal figure.

War erupts. Earth is poised to wipe out the Mars colony utterly. A cure to the plague is the price of peace, and only Feldman can find it.

Total Running Time (TRT): 3 hours, 18 min.

Lester del Rey (1915 - 1993) was an American science fiction author and editor. He was the author of many books in the juvenile Winston Science Fiction series, and the editor at Del Rey Books, the fantasy and science fiction imprint of Ballantine Books.

Del Rey was awarded the 1972 E. E. Smith Memorial Award for Imaginative Fiction (for the Skylark) by the New England Science Fiction Association and a special 1985 Balrog Award for his contributions to fantasy, voted by fans and organized by Locus Magazine. The Science Fiction Writers of America named him its 11th SFWA Grand Master in 1990.