Barnaby Rudge
- Charles Dickens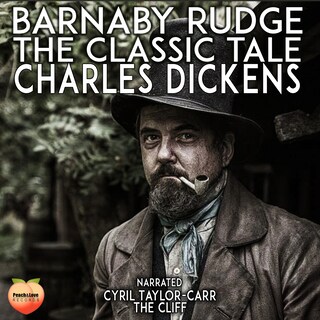 Beskrivning
"I hope I know my own unworthiness, and that I hate and despise myself and all my fellow creatures as every practicable Christian should." ...
"I have broken where I should have bent, and have mused and brooded, when my spirit should have mixed with all God's great creation.
Barnaby Rudge is a historical novel by British novelist Charles Dickens. Barnaby Rudge was one of two novels (the other was The Old Curiosity Shop) Dickens published in his short-lived (1840–1841) weekly serial Master Humphrey's Clock. This book is largely set during the Gordon Riots of 1780. Barnaby Rudge was the fifth of Dickens' novels to be published. It had initially been planned to appear as his first, but changes of publisher led to many delays, and it first appeared in serial form in the Clock from February to November 1841. This was Dickens' first historical novel.
Charles John Huffam Dickens FRSA was an English writer and social critic. He created some of the world's best-known fictional characters and is regarded by many as the greatest novelist of the Victorian era.
A true audiobook treasure!