Bedtime Stories for Kids: Classic Fairy Tales and Short Stories to Help Your Children Fall Asleep & Relax. Aladdin, Beauty and The Beast, Rapunzel, Aesop's Fables, and More!
- Nathaniel Hawthorne, Rudyard Kipling, Andrew Lang och mer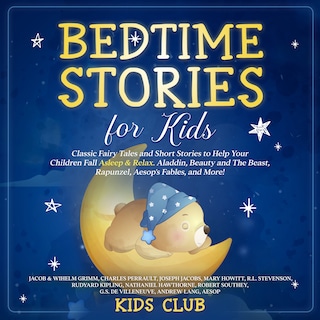 Beskrivning
If You're Looking for Enthralling, Magical Fairy Tales to Help Your Child Relax and Find Comfort at Night, Then Keep Reading!
> Are you looking for a great bedtime routine for your child that will help them wind down after a hectic day of school and play?
> Do you want to cultivate your child's creativity and sense of wonder using some of the great classics of our time?
Who doesn't?!
Every parent wants two things for their children: One is to live richer, more imaginative lives; the other is to get everything they need to be physically healthy.
Well, as far as colorful lives and staying healthy are concerned, "Short Stories for Kids" by the Kids Club has just the thing!
With the help of the most iconic children's stories of all time – including Aesop's fables, The Three Little Pigs, Hansel and Gretel, and so many others – bedtime stories are proven to help foster a bond between parents and children, lower kids' stress levels and reinforce their literacy skills and mastery of language.
In this imaginative audiobook, your child will:
- Be entertained and appreciate the magic and wonder that only the best classic stories can offer
- Start memorable family traditions with mom and dad as the whole family winds down to bond and cuddle
- Increase their sleep quality while helping their body reset and heal from a busy day
And MUCH more!
Kids need to be nourished in every area of their life.
Through "Bedtime Stories for Kids", your child gets highly imaginative and prolific stories from some of history's best authors told in a very soothing and relaxing way.
The fixed routine of a bedtime story before sleeping can improve the child's brain development, language mastery, and logical thinking skills.
Motivate your child to become a good human being and promote their capacity for empathy.
Scroll up, Get the Audiobook, and Start Listening!
© Author's Republic (Ljudbok)