Beekeeping: The Ultimate Guide for Getting Started With Producing Honey and Keeping Bees
- Mike C. Jacobson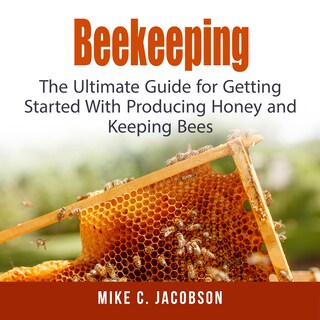 Beskrivning
Learning Everything You Need to Know to Become a Successful Beekeeper
Today only, get this audio bestseller for a special price.
Whether your interest in beekeeping is as a hobby, because your grandpa once kept bees when you were growing up, or you think this might be a cool little side business, this audiobook will help get you started on your new adventures as a beekeeper!
In this audio program, you will learn everything you need to know about getting started as a beekeeper. By the time you finish this audiobook, you will have learned all about each of the topics listed below, and you will be ready to get started out in your own beekeeping adventure.
Here Is A Preview Of What You'll Learn...
Getting Started in Beekeeping
Clothing and Equipment Needed
How to Handle Bees
Acquiring Bees
Queen Management Techniques
Raising Queen Bees
Using Nectar Substitutes
Using Pollen Substitutes
Keeping Bees in a Suburban Area
About Bacterial Diseases
About Viruses and Fungal Diseases
About Tracheal Mites
The Small Hive Beetle
About the Disappearing Bees
Bee Stings
The Processing of Honey
Equipment used for Honey Processing
And basically everything you need to know to start beekeeping today.
Download your copy today!
Take action today and download this audiobook now at a special price!
© Author's Republic (Ljudbok)