Carry on, Jeeves and Right Ho, Jeeves - TWO P.G. Wodehouse Classics! - Unabridged
- P.G. Wodehouse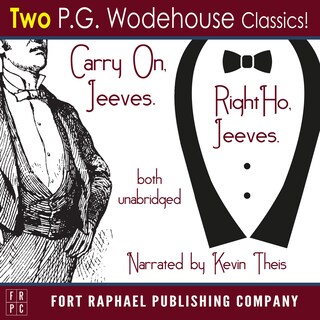 Beskrivning
P.G. Wodehouse, the master of British humor, produced dozens of books and hundreds of short stories in his long and prolific career. But none of his creations has quite captured the world's imagination as much as his bumbling, empty-headed, man-about-town Bertie Wooster and Bertie's faithful, knight-in-shining tuxedo Jeeves.
Collected here are two of Wodehouse's most beloved "Jeeves and Wooster" creations - ten short stories from the anthology "Carry On, Jeeves" and the complete novel "Right Ho, Jeeves" - each a master class in comedic writing. Along with Jeeves and Bertie, we are introduced to an entire cast of beloved Wodehouse characters: Bingo Little, James "Corky" Corcoran, Honoria Glossop, Rockmetteller Todd and the terrifying and bombastic Aunt Agatha.
These two books are presented here in their original and unabridged form.