Cowboy Unwrapped & One Hot December

- Vicki Lewis Thompson, Tiffany Reisz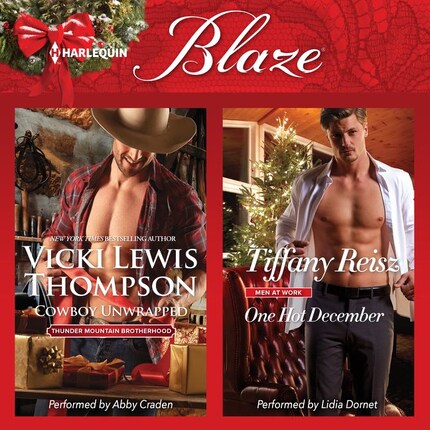 Beskrivning
Cowboy Unwrapped
This cowboy can handle the heat…

For cowboy and firefighter Jake Ramsay, Christmas at Thunder Mountain Ranch is all about family, food and celebration. Okay, and maybe a chance to run into his high school sweetheart, singer Amethyst Ferguson. Six months ago, they had a scorching-hot, wild reunion…and this cowboy can't wait for another chance to play with fire.

Now their sexual attraction is an insatiable, fivealarm blaze that's only grown more addictive. But Amethyst has career dreams that don't include Jackson Hole, Wyoming, or a "relationship." Whatever this is between them, however real it feels, it can never become anything more. Once Christmas is over, Amethyst must walk away…even if they both get burned.

One Hot December
Hard as steel…and hotter still!

Never mess with a woman who carries a blowtorch in her backpack. Welder and artist Veronica "Flash" Redding's playful sense of evil sometimes gets the better of her. Like when her insanely handsome, wealthy, suited-up boss gave her the most sensuously wicked night of her life…then dumped her. Yep, revenge is a dish best served hot.

Only Ian Asher isn't letting Flash get away quite so easily. He's not ready to forget the intensity between them. The searing heat when they touch. And the deliciously demanding control Ian wields in the bedroom. Now he has only the holidays to convince Flash that they belong together…and that even the most exquisite, broken things can be welded back together.