Culinary Lesson: The Space of Food

- Daniel Birnbaum, Sanford Kwinter, Tobias Rehberger och mer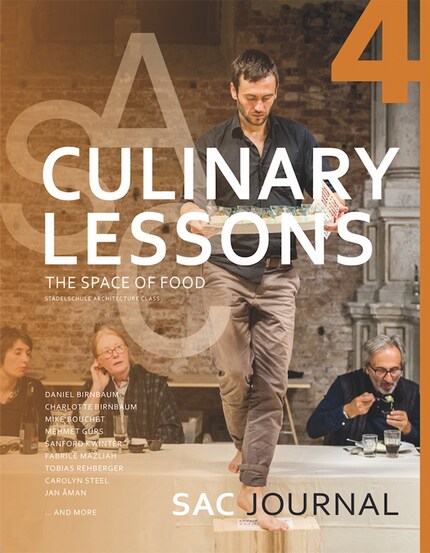 Beskrivning
CULINARY LESSONS - The Space of Food is based on a series of events, Culinary Lessons, which were hosted by the Städelschule Architecture Class and which engaged with the relation between food, art and architecture. The series addressed the enormous so- cial, economic and cultural spaces that accompany the production and consumption of food, and attempted to unravel some of these spaces' structure and dynamics. The central ambition was to learn from culinary history and, not the least, the recent vanguard of culinary practice.
No human activity is so encompassing and engenders such ef- fects on our societies and lives as the culinary. Culinary practices lay out aesthetic as much as ethical trajectories that span from century-old traditions to lifesaving experiments for the present and future. They provide for human sustenance and the highest form of bodily enjoyment while transversing the spaces that they at once produce and profoundly affect.

This fourth issue of the SAC JOURNAL presents the central con- versation in Culinary Lessons, which took place in Venice, together with a series of texts and projects that chart and speculate on the relationship between architecture, art and the culinary wor- ld. Contributors to this issue include, amongst others, Charlotte Birnbaum, Daniel Birnbaum, Mike Bouchet, Sanford Kwinter, Fabrice Mazliah, Tobias Rehberger, David Ruy, Kivi Sotamaa, Carolyn Steel, Jan Åman and Johan Bettum. It also features the winning projects of the AIV Master Thesis Prize in 2015 and 2016.

SAC JOURNAL is a publication series that addresses topical isues within architecture. The journal documents, critically reviews and presents theoretical discussions concerning contemporary design and research. The content of SAC JOURNAL is produced by invited contributors and students and faculty at the Städel- schule Architecture Class.
© AADR – Art Architecture Design Research (E-bok)