Dogbert's Top Secret Management Handbook
- Scott Adams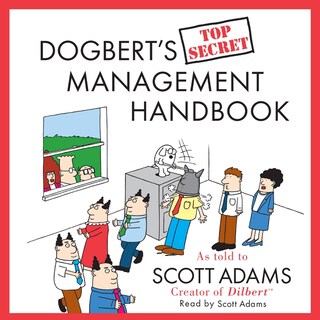 Beskrivning
Why do all modern managers do the same bizarre things? Are these methods taught in business schools? Do managers learn by watching more experienced managers? Is it the result of mentoring?

None of the above!

Every manager learns from the same source: Dogbert's Top Secret Management Handbook. This valuable management handbook teaches new managers how to transform themselves from bitter and bewildered "little people" into fully functioning, paradigm-spewing management zombies.

In this indispensable guide, Dogbert reveals the many vital skills needed by managers in their daily lives, including:

The power of verbal instructions-sound like a boss while maintaining complete deniability!

Empty promises of promotion-enjoy all the motivational benefits with none of the costs!

Pretending to care-learn to hear without listening!

Company newsletter-communicate without the risk of conveying information!

Competition-experience the joy of setting your people against one another!

Decision making-be a leader without making any decisions!

Incentives-inspire employees by giving them worthless knick-knacks!

Remember: Leadership isn't something you're born with. It's something you learn by listening to Dogbert tapes.

A world-class consultant and bestselling author, Dogbert has spent much of his life giving advice to gullible people with disposable incomes. His brain has many more crevices than yours, so you'd better do what he says.