Eleanor Oliphant is Completely Fine

- Gail Honeyman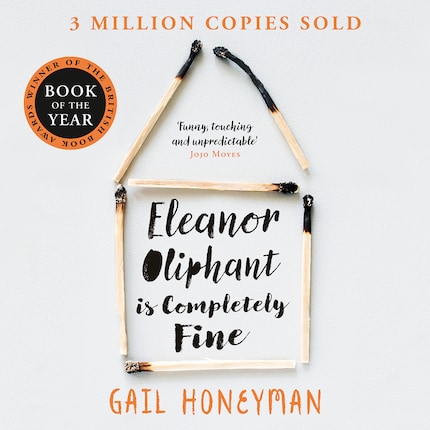 Beskrivning
• Winner of the Costa First Novel Award
• No.1 Sunday Times bestseller and No.1 New York Times bestseller
• Soon to be a major motion picture produced by Reese Witherspoon

'Funny, touching and unpredictable' Jojo MoyesWinner of the Audie award for Best Fiction Audiobook 2018

Eleanor Oliphant has learned how to survive – but not how to live

Eleanor Oliphant leads a simple life. She wears the same clothes to work every day, eats the same meal deal for lunch every day and buys the same two bottles of vodka to drink every weekend.

Eleanor Oliphant is happy. Nothing is missing from her carefully timetabled life. Except, sometimes, everything.

One simple act of kindness is about to shatter the walls Eleanor has built around herself. Now she must learn how to navigate the world that everyone else seems to take for granted – while searching for the courage to face the dark corners she's avoided all her life.

Change can be good. Change can be bad. But surely any change is better than… fine?

'Heartwrenching and wonderful' Nina Stibbe

'Deft, compassionate and moving' Paula McLain

'I adored it. Skilled, perceptive, Eleanor's world will feel familiar to you from the very first page. An outstanding debut!' Joanna Cannon


Vad andra tycker
Recensioner av Eleanor Oliphant is Completely Fine -
Ljudbok
En bok som förvånade mig och verkligen växte på mig! Till slut kunde jag inte sluta lyssna
Great book and amazing narration! Loved every minute of it. Sad and funny at the same time.
Enjoyable and easy to listen to. Not too intense!
At first, I thought it would be a Bridget Jones make-over piece of easily digested literature but my impression was fully mistaken. It has been very long since I was so completely drawn into a book and so eager to find out what's behind a character as I was by Eleanor's story. It is smart, endearing but also thought provoking and real. It us more than well worth the read.
This was an excellent book. One of the very few ones I want to read again and again. The narration was also very very nice
Underbar bok, fantastisk uppläsare!
Läs/lyssningsvärd!