Hard Times
- Charles Dickens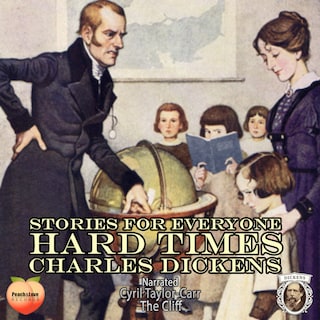 Beskrivning
"Now, what I want is Facts. Teach these boys and girls nothing but Facts. Facts alone are wanted in life. Plant nothing else, and root out everything else. You can only form the minds of reasoning animals upon Facts; nothing else will ever be of any service to them."
? Charles Dickens, Hard Times
Hard Times is the tenth novel by Charles Dickens, first published in 1854. The book surveys English society and satirizes the social and economic conditions of the era.
Hard Times is unusual in several ways. It is by far the shortest of Dickens's novels, barely a quarter of the length of those written immediately before and after it. Moreover, it is his only novel not to have scenes set in London. Instead, the story is set in the fictitious Victorian industrial Coketown, a generic Northern English mill-town.
The story concerns one Thomas Gradgrind, a "fanatic of the demonstrable fact," who raises his children, Tom and Louisa, in a stifling and arid atmosphere of grim practicality. A classic audiobook publishing event. Charles John Huffam Dickens FRSA was an English writer and social critic. He created some of the world's best-known fictional characters and is regarded by many as the greatest novelist of the Victorian era.