Helios Crowns His Mistress / Leonetti's Housekeeper Bride

- Michelle Smart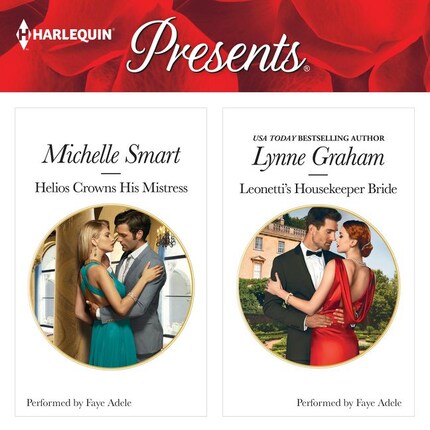 Beskrivning
Helios Crowns His Mistress by Michelle Smart

The Heir's Choice: Mistress or Wife?

Breaking news: From the depths of the palace come whispers of a threat to Agon. It's public knowledge that Crown Prince Helios is bound to marry the princess of Monte Cleure, but will the discovery of his secret lover, Amy Green, shatter the kingdom?

An exclusive source has revealed that Amy has ended their affair -- leaving Helios furious. And we all know he's not a man to be denied! Legally, Helios must wed someone of pure royal blood. So the question remains: Will he do as duty commands, or will he risk his crown to marry his mistress?

Leonetti's Housekeeper Bride by Lynne Graham

His Innocent Wife...

The last thing Gaetano Leonetti wants is to be shackled in marriage, but to become CEO of his family's bank, his grandfather has decreed Gaetano must find a nice, ordinary woman to wed. Convinced his grandfather is mad, Gaetano sets about proving him wrong with housekeeper Poppy Arnold. With her outspoken nature and unusual dress sense, she's definitely not wife material!

But it's not long before hardworking, self-sacrificing Poppy charms his grandfather and Gaetano's stuck with a union he didn't want and a bride he sinfully craves! Having set her up to fail, can he really take the precious gift of her virginity?