History's Greatest Speeches - Women's Voices - Vol. II
- Marie Curie, Nellie McClung, Mother Jones och mer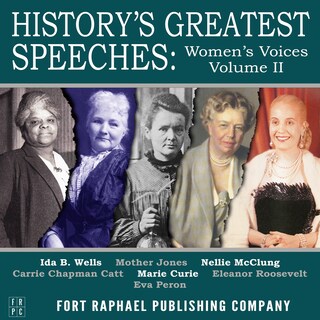 Beskrivning
This is a special production from SoundCraft Audiobooks, the eighth volume in the "History's Greatest Speeches" series and the second to feature the voices of some of the most important women in world history.

Fort Raphael Publishing has collected seven of the most important and iconic speeches of all time, all of which were written and delivered by the most important women of their respective eras. We then hired the finest narrators in the business to read these speeches as they might have originally been delivered and added atmospheric sound effects to allow the listener to feel as if they were actually present when the speech was performed.

From Ida B. Wells' (Devereau Chumrau) powerful condemnation of the scourge of lynching to Eva Peron's (Kelly Silva O'Rourke) renunciation of the Vice Presidency of Argentina, these speeches were among the most influential, important and moving speeches ever delivered.

This volume also features the labor leader Mother Jones (Jean Moran), suffragist Nellie McClung (Allison Black), women's rights pioneer Carrie Chapman Catt (Lia Mortensen), physicist and Nobel Prize-winning scientist Marie Curie (Sara Nichols), and the United States' and the longest serving First Lady and human rights advocate Eleanor Roosevelt (Barbara Robertson).

This collection of powerful and moving speeches pays tribute to these great world leaders and the words they used to inspire millions.

This is the second volume of this special series.
© Author's Republic (Ljudbok)