Love in the Time of Colic

- Ian Kerner, Heidi Raykeil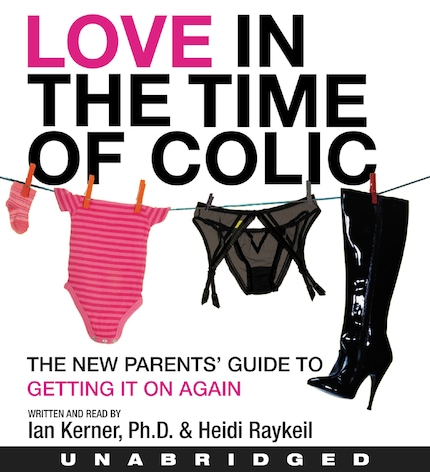 Beskrivning
Sex. After. Baby.

These three words are spoken in hushed voices over playdates and at playgrounds. But while we may whisper them to our closest girlfriends, or joke about them after one too many beers with the guys, when it comes to talking with our partners about what's really going on (or not going on, as the case may be) in our child-proofed bedrooms, more and more of us find ourselves tongue-tied and tiptoeing. Are you part of the "sleepless, sexless" club?

You just might be, if

You'd rather just go to bed than go to bed with your partner. The mind-blowing sex you once had now just blows.The TV is turned on more than you are.A playdate sounds better to you than yet another bad date night.The baby gets more kisses and cuddles than you do.You're beaten down from always having to initiate sex.Foreplay has become chore-play."Let's get it on" are now fighting words. But it doesn't have to be this way. According to bestselling author Ian Kerner, Ph.D., and "naughty mommy" Heidi Raykeil, it really is possible to do the hokey pokey and keep up the hanky panky. Ian and Heidi often bring very different perspectives, but they agree that sex matters . . . a lot. It's the glue that holds couples together and keeps lovers from becoming simply roommates or co-parents. Funny and frank, Love in the Time of Colic will help parents take the charge out of this once-taboo subject, and put it back where it belongs—in the bedroom.