Meditation for Beginners Bundle: 8 in 1 Bundle
- Dr Henriette Sparson, Adam Brown and George M. Singerire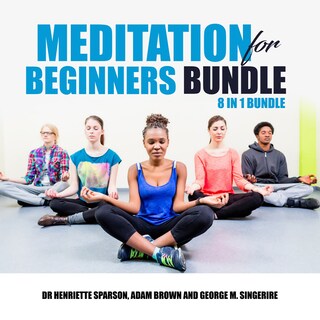 Beskrivning
Meditation for Beginners Bundle: 8 in 1 Bundle, Meditation Book, Meditation for Beginners, Meditation,Guided Meditation,Transcendental Meditation, Zen Mind, Yoga for Beginners, Spiritual Books
Meditation is therapy for the soul. Through simple to learn techniques a person can master the art of peace and tranquility. Its powerful influence has the means to change one's life. Its simple to understand and can be practiced in any environment.
Stress is one of the leading contributors to serious health conditions. Mediation is an outlet for a person to release those negative thoughts and feelings into the universe. Inner peace results in greater happiness and joy.
It's time for you to take control of your life. Remove those negative, destructive thought patterns that is robbing you of all the joy that you deserve. Let meditation become your salvation that will give you back you inner peace and tranquility.
This eight-in-one bundle series includes the following audiobooks:
1. Meditation Book: Learn How to Meditate In Your Everyday Life
2. Meditation for Beginners: The Ultimate Meditation Book For Men and Women. Daily Insights On How To Meditate And Reach The Path To Mindfulness
3. Meditation: The Ultimate Guide To Understanding Mindfulness Meditation to Change Your Life Forever
4. Guided Meditation: The Ultimate Guide to Learn Guided Meditation Practices For Stress Reduction And Finding Inner Peace
5. Transcendental Meditation: Learn Healing and Transformation Through Mindfulness Meditation
6. Zen Mind: Beginners Guide for Zen Buddhism Meditation & Mindfulness Experience
7. Yoga for Beginners: Learn Yoga Basics and Strengthen Your Body
8. Spiritual Books: The Ultimate Collection To Be A Success At Connecting Spiritually
Get your copy of Meditation for Beginners Bundle: 8 in 1 Bundle today!

© Author's Republic (Ljudbok)