Minimalism + Minimalist Budget 2-in-1 Book
- Clifford Page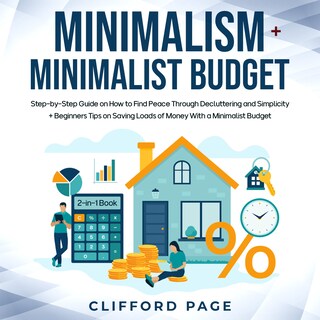 Beskrivning
Is your house strewn with useless clutter you thought would make you happy, but never did? Do you need to let go of meaningless possessions and money-wasting habits, but you just don't know how to start? Then you need to keep reading...
Recent studies have shown that clutter can be bad for our mental health. Not only can it hurt our bank accounts, but it can trigger stress, diminish focus, and make us less capable of processing information efficiently. The minimalist approach, however, is a known remedy for mental and material clutter, lauded for its ability to ignite greater life satisfaction and create bigger savings.
This bundle includes:
- Minimalism & Decluttering: Goodbye Things, Hello Freedom
- Minimalist Budget: Achieve Financial Freedom, Smart Money Management Strategies to Budget Your Money Effectively.
In this audiobook, you'll discover:
- Fifteen easy steps to bigger savings and a higher income NOW. (These expert-known financial plans will send the numbers on your paychecks and bank balance skyrocketing!)
- Essential decluttering tips for every beginner minimalist.
- Quick-start action tips to free yourself from compulsive spending tendencies.
- Eleven must-know techniques to pull yourself out of the black hole of debt.
- The subtle warning signs telling you to declutter NOW. (Recognize the symptoms of an overcluttered life and the exact formula to jumpstart a stress-free new beginning immediately!)
And much, much more…
Even if you're a big hoarder and you're sinking under the weight of your enormous debt, the extensive research behind this guide will show you the exact formula to gain control over your spending, boost your income, eliminate debt, eradicate stressful clutter, and fatten your savings account.
If you want to access these ground-breaking strategies and finally achieve freedom from the shackles of clutter, then you should listen to this audiobook!