Naomi: Audio Bible Studies
- Nicole Johnson, Kasey Van Norman, Jada Edwards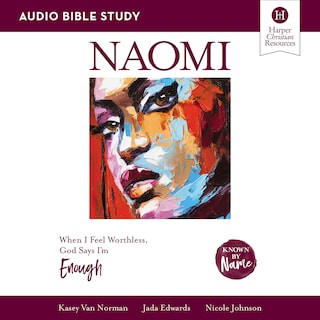 Beskrivning
The women in the Bible asked the same three questions we all still ask today: How does everyone else see me? How do I see myself? How does God see me?

Naomi's story, found in the book of Ruth, is a story of lost identity. She lost her husband and her sons, which in her culture left her completely without a home or a means to support herself. She was a Hebrew woman in Moabite territory, alone among strangers. She reacted by letting her circumstances define her. But even in her angry, fearful, rather dramatic season of feeling like the victim, God kept showing his faithfulness.

This Bible study will take you through Naomi's journey from comfort and security to despair and bitterness; from hopeless drifting to faithful obedience; and from loss to redemption in one short lifetime. We'll learn that when we go through trauma, loss, and hardship, it's normal to feel Just. So. Done. Yet God remains close. He is not done. He can and will redeem even in our darkest circumstances.

Sessions include:

When Hard Times Hit (26:00)Behind the Scenes (17:00)Better than Being Fixed (17:00)From Bitter to Blessed (19:00)Coordinating study guide available separately.

The Audio Bible Studies series provides a unique audio learning experience. Unlike a traditional audiobook's direct narration of a book's text, this audio Bible study includes high-quality, live audio sessions from the author that cover important Bible-based topics. These sessions will reflect the ambiance of the unique recording locations, immersing the listener into the teaching. While not required for the audio experience, these studies are designed to partner with the coordinating study guide, sold separately.


© HarperChristian Resources (Ljudbok)