Nicholas Nickleby
- Charles Dickens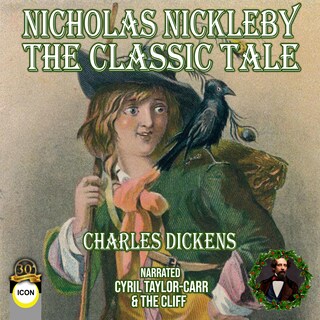 Beskrivning
Nickleby is a young man of nineteen, handsome and hot-headed, devoted to his sister Kate and his parents. Following the death of Nicholas's father, they find themselves penniless and travel to London to seek help from his uncle, Ralph Nickleby, a heartless, cunning rogue. He grudgingly finds employment for Nicholas in Dotheby Hall, a school in Yorkshire run by the brutal Mr. and Mrs. Wackford Squeers. Appalled at the condition and treatment of the school children, Nicholas rebels, escaping with Smike, a young man/child who has become devoted to him. Nicholas, in search of employment, first tutors children of the Kenwigs family. Later he meets the flamboyant Mr.Vincent Crummles, and along with Smike, joins his theatrical troupe, with a band of hilarious actors.
Charles John Huffam Dickens FRSA was an English writer and social critic. He created some of the world's best-known fictional characters and is regarded by many as the greatest novelist of the Victorian era.
A true audiobook treasure!