No Surrender
- Douglas Century, Christopher Edmonds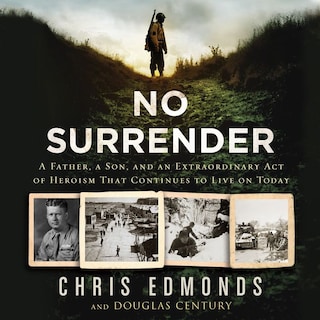 Beskrivning
Part contemporary detective story, part World War II historical narrative, No Surrender is the inspiring true story of Roddie Edmonds, a Knoxville-born enlistee who risked his life during the final days of World War II to save others from murderous Nazis, and the lasting effects his actions had on thousands of lives—then and now.

Captured in the Battle of the Bulge, Master Sergeant Roddie Edmonds was the highest-ranking American soldier at Stalag IXA, a prisoner of war camp near Ziegenhain, Germany. A native of Knoxville, Tennessee, Roddie was a simple, soft-spoken man of deep inner strength and unwavering Christian faith. Though he was driven to the limits of endurance, Roddie refused to succumb to Nazi brutality toward the Jewish-American GIs with whom he was serving. Through his inspiring leadership and bravery Roddie saved the lives of hundreds of U.S. infantrymen in those perilous final days of the Second World War. His fearless actions continue to reverberate today.

Growing up, Pastor Chris Edmonds knew little of his father's actions in the war. To learn the truth, he followed a trail of clues, a journey that spanned seven decades and linked a sprawling cast of heroes, both known and unknown, from every corner of the country. In No Surrender, Pastor Chris, joined by New York Times bestselling co-author Douglas Century, chronicles his odyssey to tell the unforgettable story of his father and his remarkable valor. He also provides startling details (and vantage points) of some of the major events of World War II and United States Army initiatives that helped the Allies win the war, including the Battle of the Bulge, the massacre at Malmedy, and the now-little-known Army Specialized Training Program which prepared brilliant young "soldier-scholars"—or "Quiz Kids"—from across the nation to battle the Nazis.

As compelling as the number-one New York Times bestsellers Unbroken, Boys on the Boat, Band of Brothers, and Schindler's List, No Surrender is an epic story of bravery, compassion, and faith, and an inspiring testament to man's goodness. It is also a clarion call for our narcissistic age—a shining example of the transformative and redemptive power of moral courage.