Shots Fired in Anger: A Rifleman's Eye View of the Activities on the Island of Guadalcanal
- John B. George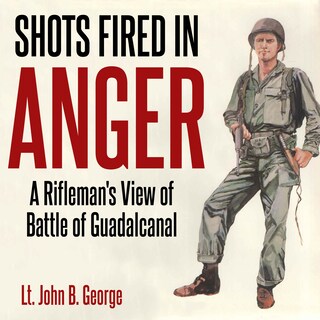 Beskrivning
On August 7, 1942, Allied forces landed on Guadalcanal with the aim of relieving pressure that the Japanese were putting upon Allied supply and communication routes.
It was the first major offensive by Allied forces against the Empire of Japan.
John B. George's wonderful account of his early overseas experiences as a rifleman in the Guadalcanal campaign presents the viewpoint not of a brass hat, but instead of doughboy who saw the conflict from the ground.
He begins with the story of his early years in the 132nd Infantry of the Illinois National Guard, training on the ranges in various ranges across America, before he and his regiment were inducted into the United States Army just months before the terrible events at Pearl Harbor.
George and his regiment landed on Guadalcanal just one day after the invasion had begun and were thrown quickly into the action to secure the beachhead and defend Lunga Point.
What makes this memoir different from others is the fact that George not only uncovers the conflicts that he witnesses and took part in but he also gives extensive information about the tactics that the U.S. military implemented as well as in depth descriptions of all the weapons that they used along with those of their enemies.
"Johnny George is a fine officer and an able Infantryman. As a leader he was always capable and aggressive; as an individual rifleman he never lost an opportunity to kill or harass the enemy." Colonel George F. Ferry, Commanding Officer of 132nd Infantry Regiment.
John B. George served in the U.S. Army from 1941 to 1947 in the Pacific and China-Burma-India theaters and held the rank of lieutenant colonel. After this he went to Princeton and later joined the State Department's Foreign Affairs Institute as a consultant, lecturer, and writer on African affairs. His book Shots Fired in Anger was first published in 1947 and he passed away in 2009.
© Author's Republic (Ljudbok)