Sons of Fortune
- Jeffrey Archer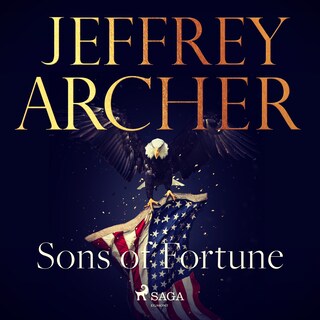 Beskrivning
Separated at birth by a desperate nurse who loses a millionaire's son to cot death, twin boys grow up without any knowledge of the other.

Nat Cartwright lives with his middle-class birth parents and grows up to becomes a war hero in the Vietnam War before returning home to run for office in the Republican party.

Fletcher Davenport becomes the only son of the millionaire couple. After graduating from Yale, he builds a reputation as a prolific criminal defence lawyer before he too delves into politics as a Democrat.

Though their lives are entwined, and perfectly mirrored with tragedy and betrayal, neither men meet until one must defend the other for murder.

A family saga of fate, political rivalry and extended lost family, perfect for fans of Jeffrey Archer's other suspense filled thrillers.

Sons of Fortune is narrated by Michael Brandon, most famous for playing James Dempsey in the 1980's television crime drama, "Dempsey and Makepeace". His extensive theatre career spans Broadway and the West End, where he played Jerry Springer in \"Jerry Springer: the Opera\" for the National Theatre.

Jeffrey Archer is a bestselling British author and former politician. He was educated at Oxford and went on to become a Member of Parliament, a Member of the House of Lords as well as the deputy chair of the Conservative Party. His political career ended in scandal and he turned to writing, where he has been published in over 250 countries.

He is perhaps most famous for the "Clifton Chronicles" and his blockbuster "Kane and Abel" which was number one on the New York Time's Bestseller list and inspired a popular miniseries starring Peter Strauss and Sam Neill.

After he was imprisoned for perjury in 2001, he wrote his highly acclaimed non-fiction series, Prison Diaries – "Hell", "Purgatory" and "Heaven" – which were inspired by his experiences and loosely structured around Dante's Inferno.