The Brontë Sisters Collection
- Emily Brontë, Charlotte Brontë, Anne Brontë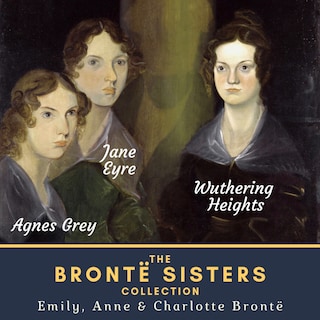 Beskrivning
The Brontë Sisters Collection includes the three most important novels of Emily, Anne and Charlotte Brontë.

The Brontës were a nineteenth-century literary family, born in the village of Thornton and later associated with the village of Haworth in the West Riding of Yorkshire, England. The sisters, Charlotte (1816-1855), Emily (1818-1848), and Anne (1820-1849), are well known as poets and novelists. Like many contemporary female writers, they originally published their poems and novels under male pseudonyms: Currer, Ellis, and Acton Bell. Their stories immediately attracted attention for their passion and originality. Charlotte's
Jane Eyre was the first to know success, while Emily's
Wuthering Heights, Anne's
The Tenant of Wildfell Hall and other works were later to be accepted as masterpieces of literature.

Wuthering Heights is Emily Brontë's only novel. Written between October 1845 and June 1846,
Wuthering Heights was published in 1847 under the pseudonym Ellis Bell; Brontë died the following year, aged 30.
Wuthering Heights and Anne Brontë's
Agnes Grey were accepted by publisher Thomas Newby before the success of their sister Charlotte's novel,
Jane Eyre.

Agnes Grey is the debut novel of English author Anne Brontë (writing under the pen name of Acton Bell), first published in December 1847, and republished in a second edition in 1850. The novel follows Agnes Grey, a governess, as she works within families of the English gentry. Scholarship and comments by Anne's sister Charlotte Brontë suggest the novel is largely based on Anne Brontë's own experiences as a governess for five years.

Primarily of the
Bildungsroman genre,
Jane Eyre follows the emotions and experiences of its eponymous heroine, including her growth to adulthood and her love for Mr. Rochester, the Byronic master of fictitious Thornfield Hall. In its internalization of the action - the focus is on the gradual unfolding of Jane's moral and spiritual sensibility, and all the events are colored by a heightened intensity that was previously the domain of poetry -
Jane Eyre revolutionized the art of fiction.


© 2019 Parolita Libro (Ljudbok)