The Brontë Sisters: The Essential Collection (Agnes Grey, Jane Eyre, Wuthering Heights)
- Emily Brontë, Charlotte Brontë, Anne Brontë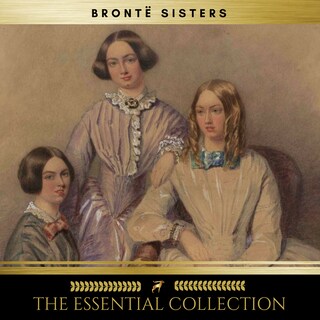 Beskrivning
This Audiobook contains The Essential Collection of The Brontë Sisters.

- Agnes Grey [Anne Brontë]

The novel tells the story of Agnes Grey, the daughter of a minister, whose family comes to financial ruin. Desperate to earn the money to care for herself, she takes one of the few jobs allowed to respectable women in the early Victorian era – the role of governess to the children of the wealthy. In working with two different families (the Bloomfields and the Murrays), she comes to learn about the troubles that face a young woman who must try to rein in unruly, spoiled children for a living, and about the ability of wealth and status to destroy social values. After her father's death, Agnes opens a small school with her mother and finds happiness with a man who loves her for herself. They have three children at the end of the novel, Edward, Agnes and Mary

- Jane Eyre [Charlotte Brontë]

Jane Eyre is not your typical romance. It is a story of a woman who struggles with a world in which she doesn't quite fit. Once finished with her schooling, and with no family that really cares of her she strikes out on her own as a governess. Jane Eyre searches for love, someone to care for her, and someone to care for, and finds it in unexpected places.

- Wuthering Heights [Emily Brontë]

A tale of passion set in the bleak Yorkshire moors in mid 19thC, far from the Victorian uprightness, Wuthering Heights depicts the mutual love of Catherine and Heathcliff till destruction rends the narration; yet cruelty is only to be met with forgiveness in the following generations. Romantic, impassioned and wild, it is also a dark journey in the human soul.


© 2018 OreganPpublishing (Ljudbok)
© 2018 Brontë Sisters (Ljudbok)