The Great Gatsby
- F. Scott Fitzgerald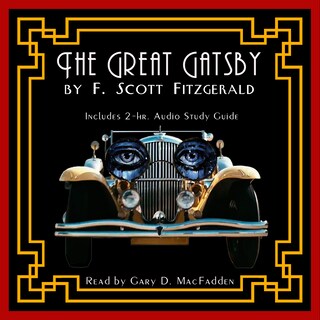 Beskrivning
Long considered one of America's greatest novels, The Great Gatsby, by F. Scott Fitzgerald, has remained the quintessential look at the "Roaring Twenties." This new audio edition includes a nearly 2-hour study guide to The Great Gatsby, including a chapter-by-chapter analysis, descriptions of the key characters, and an overview of the important themes and symbols in the book.

The novel unfolds as a memoir in the voice of Nick Carraway, a young man from the Midwest who travels to New York to try his hand at the bond business. By chance, Nick rents a house next door to the mysterious millionaire Jay Gatsby.

Nick eventually befriends his neighbor, and learns that Gatsby had a relationship with his now-married cousin, Daisy Buchanan. Gatsby's guiding purpose in life is to rekindle that relationship with Daisy. Through illicit means, he has transformed himself from the penniless soldier who wooed Daisy into a millionaire who believes the past can be repeated. He enlists a somewhat naive Nick in his quest. Gatsby learns too late that money can't buy social standing, which in part destroys his hopeless desire to reunite with Daisy.

Beyond being a simple story of a love lost and perhaps again found, this iconic masterpiece is a study of the very tenets of the American Dream. Fitzgerald penned a stylish and engaging novel that explores not only the interrelationships of the key characters, but the social stigmas and opulent lifestyles of the so-called Jazz Age.