The Haunted House (Unabridged)
- Charles Dickens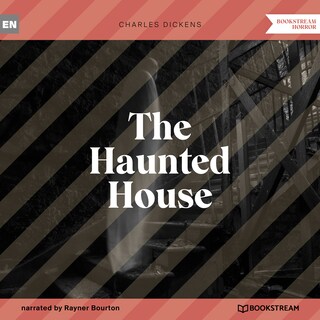 Beskrivning
"The Haunted House" is a story series published in 1859 for the weekly periodical All the Year Round. It was "Conducted by Charles Dickens", with Charles Dickens writing the opening and closing stories, framing stories by Dickens himself and five other authors.
The story appeared in the Extra Christmas Number on 13 December 1859. Dickens began a tradition of Christmas publications with A Christmas Carol in 1843 and his Christmas stories soon became a national institution. The Haunted House was his 1859 offering.
In Dickens's opening story, The Mortals in the House, the narrator's ("John") health "required a temporary residence in the country." Knowing this, a friend of the narrator had chanced to drive by the house-situated close to a railroad stop mid-way between Northern England and London-and had written to the narrator suggesting he travel down from the North and look the place over. It was a large mid-eighteenth-century manor house on two square acres with a "sadly neglected garden," recently cheaply repaired, and "much too closely and heavily shadowed by trees." The house itself is "stiff ... cold ... [and] formal" and "in as bad taste, as could possibly be desired by the most loyal admirer of the whole quartet of [King] Georges." It was "ill-placed, ill-built, ill-planned, and ill-fitted." It was "damp ... not free from dry rot" and redolent with the "flavour of rats."
© 2022 Bookstream Audiobooks (Ljudbok)
© 2022 Bookstream GmbH (Ljudbok)