The Jungle Book
- Rudyard Kipling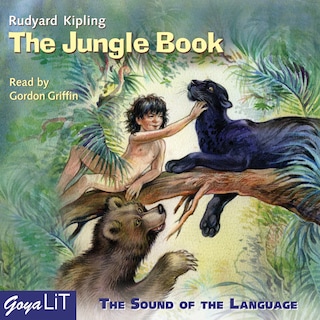 Beskrivning
The story "The Jungle Book" takes place in a tropical jungle where people are obviously absent. But one day Bagheera the Panther discovers a baby in the wreck of a boat. Feeling pity on the child, Bagheera takes him to be raised with the wolves. Ten years later, the child has grown into Mowgli. Mowgli discovers that his life is in danger because of the return to the area of Shere Khan the Tiger, whose hatred of humans is such that Mowgli faces certain death if discovered. His friends Baloo, Bagheera and Kaa prepare him for the life in the jungle. But then the monkeys kidnap him.

Nachdem Mowglis Eltern von dem heimtückischen Tiger Shere Khan angegriffen wurden, sind sie geflohen und haben ihren Sohn im Dschungel zurückgelassen. Fortan lebt er bei einem Wolfsrudel und wird von seinen Freunden, dem Bären Baloo, dem Panther Bagheera und der Pythonschlange Kaa, auf das Leben in der Wildnis und den Kampf gegen Shere Khan vorbereitet. Mowgli lernt die strengen Gesetze des Dschungels und die Sprache seiner Bewohner. Nur das respektlose Volk der Affen hält sich nicht an die Regeln und entführt den Jungen.

Die GoyaLiT-Reihe "The Sound of the Language" präsentiert die beliebtesten Themen der englischsprachigen Literatur im Original. Englische Schauspieler interpretieren die ungekürzten Texte. Die Sammlung literarischer Perlen ermöglicht lebendiges Fremdsprachenlernen durch Hören. Eine Vokabelliste im Booklet erleichtert das Verständnis.