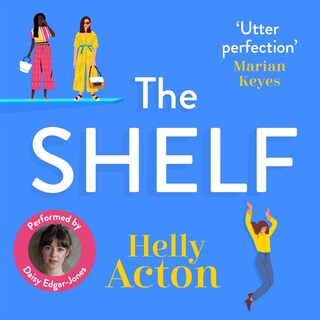 Beskrivning
'One of those delicious books you just can't put down. Utter PERFECTION!' Marian Keyes

Selected for the Radio 2 summer book club.

A funny, feminist and all-too-relatable novel about our obsession with coupling up, settling down and the battle we all have with accepting ourselves, The Shelf introduces the freshest new voice in women's fiction.

Narrated by Daisy Edgar-Jones (Normal People, Gentleman Jack, Cold Feet, War of the Worlds)

Ever feel like you're losing a race you never signed up for?

Everyone in Amy's life seems to be getting married, having children and settling down (or so Instagram tells her), and she feels like she's falling behind.

So, when her long-term boyfriend surprises her with a dream holiday, she thinks he's going to finally pop the Big Question. But the dream turns into a nightmare when, instead, she finds herself on the set of a Big Brother-style reality television show, The Shelf.

Along with five other women, Amy is brutally dumped live on TV and must compete in a series of humiliating and obnoxious tasks in the hope of being crowned 'The Keeper'.

While inside the house, will Amy learn that there are worse things than being 'left on the shelf'?
© Bonnier Publishing Fiction (Ljudbok)