The Song of Hiawatha
- Henry Wadsworth Longfellow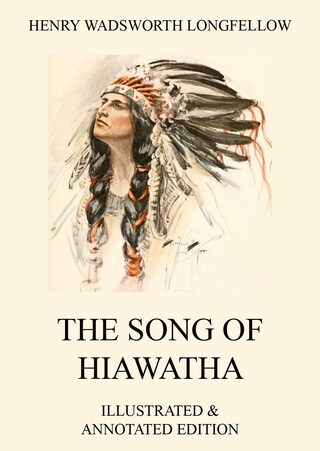 Beskrivning
This is the completely illustrated and annotated edition including an extensive primer on the author's life and works and many splendid drawings by Harrsion Fisher.

'This Indian Edda, if I may so call it,' says the author, 'is founded on a tradition, prevalent among the North American Indians, of a personage of miraculous birth, who was sent among them to clear their rivers, forests, and fishing-grounds, and to teach them the arts of peace. He was known among different tribes by the several names of Michabou, Chiabo, Manabozho, Tarcuyawagon, and Hiawatha. ' We are further informed, that 'the scene of the poem is among the Ojibways on the southern shore of Lake Superior, in the region between the Pictured Rocks and the Grand Sable.' Here then, at last, is a genuine American poem, by a native of America; a poem redolent of pine-forests and the smoke of wigwams. ' In reading American poetry, we never get beyond the shores of Kent,' said a surly critic some years ago. It is obvious enough, that if this complaint was justifiable then, it is utterly without foundation now.

Longfellow's poem created an immense and instant sensation, not only in this country, but in England. It was read, it was quoted, it was praised, it was ridiculed, it was dramatized, it was parodied, it was attacked as a plagiarism. It remains to this day the most parodied poem in the English language.
© Jazzybee Verlag (E-bok)