The Story of Doctor Dolittle

- Hugh Lofting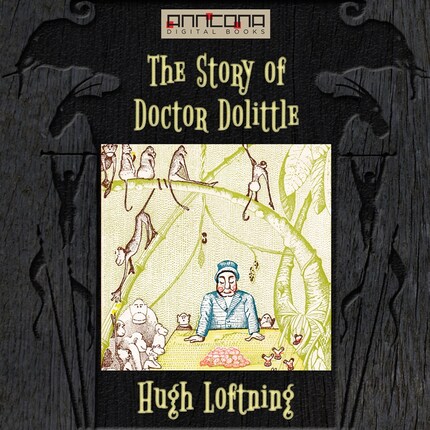 Beskrivning
The Story of Doctor Dolittle, Being the History of His Peculiar Life at Home and Astonishing Adventures in Foreign Parts (1920), is the first of his Doctor Dolittle books, a series of children's novels about a man who learns to talk to animals and becomes their champion around the world.

Doctor Dolittle was a little, lovable, old doctor who had so many animal pets all over his house and garden that his patients finally would not come to see him any more, and he became poorer and poorer (the way some good doctors do). But as he grew poorer he grew busier for he became the animals' own doctor and his fame spread far and wide among them. At last came a call from the monkeys in Africa, suffering from an epidemic, and the good Doctor set sail at once.

The adventures of his marvellous journey across the ocean, through the high kingdom of the Jollijinki and back again by way of the Canaries, make a story with chuckles of sheer joy in every line. In return for his services in Africa the Doctor is presented with a brand new pet, an animal called the Pushme-pullyu, which has two heads so it can eat and talk at the same time without being impolite. He is charmed with the creature and it becomes the means of his living in comfort for the rest of his days.

There never was quite such another little old doctor as Doctor Dolittle. When you buy this story for your children, better get a second copy for the grown-ups of the family. (US edition)

HUGH WALPOLE said: "This book is a work of genius. There is poetry here, and fantasy and humour, but above all a number of creations in whose existence everybody must believe, whether they be children of four or old men of ninety, or prosperous bankers of forty-five. I don't know how Mr Lofting has done it; I don't suppose he knows himself. There it is – the first real children's classic since Alice in Wonderland."

The e-book includes 32 black-and-white illustration by the Author.

It was one of the novels in the series, which was adapted into the film Doctor Dolittle.

Please note that this book was written at a different time and includes attitudes, which are now considered racist. Some modern editions are available with some of this changed - this recording is of the original text, as it was first published in 1920.

Total running time (TRT): 2 hours, 24 min. Reading by Karen Savage.