The Story of Doctor Dolittle - Revised Edition
- Hugh Lofting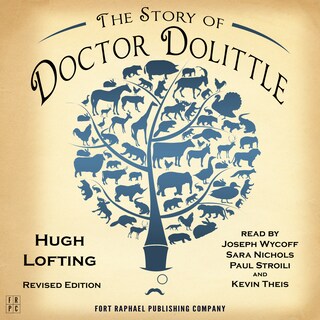 Beskrivning
Meet the man who talks to the animals!
Here is Hugh Lofting's classic tale of the English doctor who learns how to speak to his non-human patients - dogs, cats, rhinos and monkeys alike - as he travels from England to the jungles of Africa and back again. Doctor Dolittle's entourage of animal friends, including Polynesia the parrot, Gub-Gub the pig, Jip the dog and Dab-Dab the duck, journey with the doctor and team up to help him out of one scrape after another.
This story - and the eight sequels it spawned - have delighted children of all ages for over a hundred years and the story has been adapted to the stage and screen, bringing the world of Doctor Dolittle and his friends to millions of people.
The story has been revised here to remove some offensive content and is now suitable to all readers. Please enjoy this revised edition of Hugh Lofting's classic , "The Story of Doctor Dolittle"!
© Author's Republic (Ljudbok)