The Voyages of Doctor Dolittle

- Hugh Lofting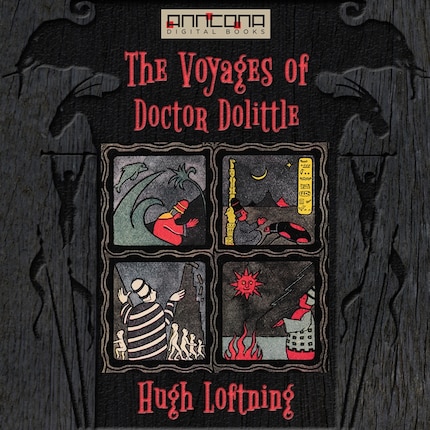 Beskrivning
The Voyages of Doctor Dolittle

It is Tommy Stubbins, the cobbler's son, who tells this story of Doctor Dolittle's wonderful voyage to Spidermonkey Island. Tommy Stubbins was a little boy who wanted to be a naturalist when he grew up.

One day he got acquainted with Doctor Dolittle, and after that his dreams began to come true; for that kindly little man promised to teach him all he knew about animals and their languages, and to take him along on his next voyage of discovery. They decided where to go by opening the atlas with their eyes shut and touching the page with a pencil.

All in all it was perhaps the most amazing voyage that has ever been heard of. The excitement began with four stowaways (one of them the cat's-meat-man!); then came the Doctor's discovery of the key to the language of the shellfish, through his meeting with a Fidgit. After that, events crowd thick and fast: the stop at a Spanish island where the Doctor creates a sensation as matador at a bullfight; the shipwreck; the landing on a Floating Island; and all the adventures there till the Doctor is crowned king by the devoted natives and has to be got away home to Puddleby by stealth.

The e-book includes 18 black-and-white illustrations by the Author.

The Voyages of Doctor Dolittle was the second of Hugh Lofting's Doctor Dolittle books to be published, coming out in 1922. It is nearly five times as long as its predecessor and the writing style is pitched at a more mature audience. It won the Newbery Medal for 1923 as "the most distinguished contribution to American literature for children". It was one of the novels in the series, which was adapted into the film Doctor Dolittle.

Please note that this book was written at a different time and includes attitudes, which are now considered racist. Some modern editions are available with some of this changed - this recording is of the original text, as it was first published in 1922.

Total running time (TRT): 6 hours, 41 min. Reading by Karen Savage.