Tono-Bungay - Book the Third: The Great Days of Tono-Bungay (Unabridged)
- H. G. Wells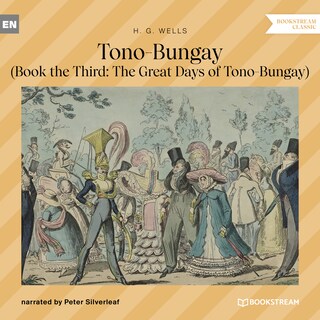 Beskrivning
Herbert George "H. G." Wells (1866 - 1946) was an English writer.
He was prolific in many genres, including the novel, history, politics, social commentary, and textbooks and rules for war games. Wells is now best remembered for his science fiction novels and is called a "father of science fiction"
BOOK THE THIRD: THE GREAT DAYS OF TONO-BUNGAY: But now that I resume the main line of my story it may be well to describe the personal appearance of my uncle as I remember him during those magnificent years that followed his passage from trade to finance. The little man plumped up very considerably during the creation of the Tono-Bungay property, but with the increasing excitements that followed that first flotation came dyspepsia and a certain flabbiness and falling away.
© 2022 Bookstream Audiobooks (Ljudbok)
© 2022 Bookstream GmbH (Ljudbok)