Vegan: The Ultimate Vegan Cooking Guide for Beginners; Learn From This Cookbook How To Cook Plant Based Meals And How To Keep An Amazing Vegan Diet For Rapid Weight Loss
- Timothy Moore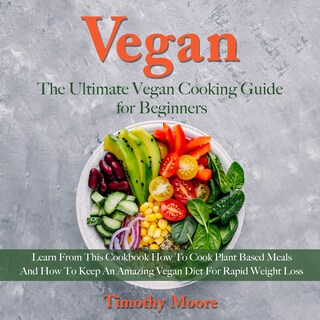 Beskrivning
If you think eating vegan is boring, think again. Listen to this audiobook and find main courses, salads, soups, and more that'll fit your needs.
Today only, get this audio bestseller for a special price.
There's no doubt that a vegetarian diet, particularly a vegan one, can be great for your health. However, with the popularity of health food stores due to the fact that many are looking to improve their health, it's easier than ever to enjoy a satisfying vegan diet. This audiobook will teach you how to do that.
Here Is A Preview Of What You'll Learn...
Typical Ingredients In Vegan Cooking
Setting Up The Vegan Pantry
Basics Of Vegan Cooking
Creating A Complete Meal
Special Nutritional Considerations
Recipes
And basically everything you need to start your vegan lifestyle today!
Download your copy today!
Take action today and download this book now at a special price!
© Author's Republic (Ljudbok)