What She Ate
- Laura Shapiro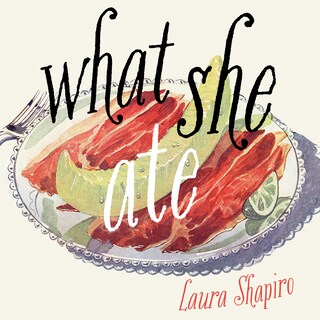 Beskrivning
'If you find the subject of food to be both vexing and transfixing, you'll love What She Ate' Elle

Dorothy Wordsworth believed that feeding her poet brother, William, gooseberry tarts was her part to play in a literary movement.
Cockney chef Rosa Lewis became a favourite of King Edward VII, who loved her signature dish of whole truffles boiled in Champagne.
Eleanor Roosevelt dished up Eggs Mexican – a concoction of rice, fried eggs, and bananas – in the White House.
Eva Braun treated herself to Champagne and cake in the bunker before killing herself, alongside Adolf Hitler.
Barbara Pym's novels overflow with enjoyment of everyday meals – of frozen fish fingers and Chablis – in midcentury England.
Cosmopolitan editor Helen Gurley Brown's idea of "having it all" meant having almost nothing on the plate except a supersized portion of diet gelatin.

In the irresistible What She Ate, Laura Shapiro examines the plates, recipe books and shopping trolleys of these six extraordinary women, casting a new light on each of their lives – revealing love and rage, desire and denial, need and pleasure.